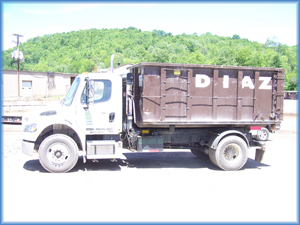 Services
Roll Off Containers: Diaz Disposal will deliver and pick up containers on your location. We have a large inventory of different size containers and trucks available to serve you.
Mixing Tubs: Diaz Disposal fabricates mixing tubs for the gas and oil industry. These tubs fit securely under the secondary drying shakers of the rigs so that drill cuttings may fall into them to be solidified.
Site Clean-ups: Diaz Disposal will come to your site when the drill rig is gone to clean up and dispose of your materials. We offer all equipment and containers needed to get your site cleaned quickly and efficiently, saving you time and money.
Drill Cutting Disposal: Diaz Disposal operates a Canadian Pacific rail site with over 150 rail gondola cars. We transport drill cuttings from the rigs to the rail. The material is then disposed of at a landfill that meets all DEP and state requirements. We follow best management practices and have an on call environmental consultant to sample and collect all data needed to dispose of those materials.